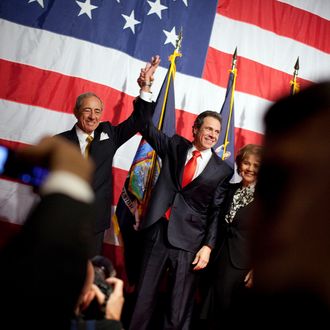 Who knew Mario Cuomo was such a proud papa?
Photo: Michael Nagle/2010 Getty Images
Today, the New York Times reports that at a party celebrating his 80th birthday at New York's Executive Mansion, Mario Cuomo alluded to the possibility of his son, Governor Andrew Cuomo, running for president in 2016. Though the former governor's own plans to run for the office famously fizzled out in 1992, the paper writes that "he seems to be warming to the idea that his son might." We'd say he's probably there already, as he's been talking about the prospect since before his son was even sworn in. However, what is notable about the elder Cuomo's declaration is that he's missed the memo on his son's decision to remain silent about his political future and let others worry about his chances against Hillary Clinton in their fantasy Democratic primary.
Mario Cuomo probably didn't think his remarks would end up in the Times, but his comments were related to the paper by a few of the 100 or so relatives, friends, and advisers in attendance. While he stirred up major excitement among those assembled, Cuomo stopped just slightly short of saying he's selected which White House guest room he'll be staying in during his frequent visits. Cuomo merely called his son "the best governor in modern times," adding that he might someday "have an opportunity to serve at a higher level, to serve the people of the United States."
After seeing his father dubbed "Hamlet on the Hudson" thanks to his very public indecision over whether or not to run, Governor Cuomo decided to go in the opposite direction. He's focused almost exclusively on his duties in New York and declined invitations to showboat on the national stage with interviews on national news shows or a speech at this year's Democratic National Convention. Former Mario Cuomo aide Harold Holzer said that, at the party, his former boss "said the difference between Andrew and me is that I made plenty of mistakes," adding, "Andrew learned from all of my mistakes and he doesn't make any."
People may already be bored with the 2012 election, but the 2016 race is really heating up!