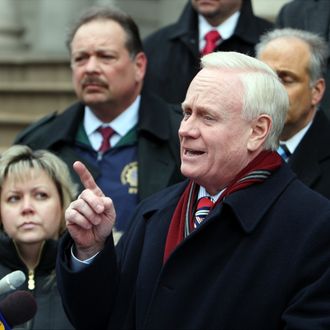 Photo: New York Daily News Archive via Getty
Republican Marty Golden, the only Brooklyn state senator to vote against marriage equality, has some thoughts on gender norms, too. In a planned event called "Posture, Deportment and the Feminine Presence," Golden, with the help of a "certified protocol consultant," promised to help misguided dames find a job by refining their god-given potential: The flier teased lessons in how to "sit, stand and walk like a model" and "walk up and down a stair elegantly," as well as tips on "handshakes and introductions." In response, State Senator Liz Krueger quipped to City & State, "Perhaps this would be appropriate on Mad Men, but not in New York in the 21st century." And following an incredulous online uproar today, the finishing class has been nixed.
"Each year, Senator Golden holds several well received events to provide options to his constituents for personal and business development," his office said in a statement Tuesday afternoon. "Our upcoming event, which we have chosen not to hold, is similar to ones being organized by other elected officials, as well as classes conducted in local high schools. The Senator's support of legislation and programs to help create jobs for all New Yorkers is a matter of public record, and we will be holding future events to assist them in finding and keeping a job."
For now, reruns of Charm School it is, sweethearts.