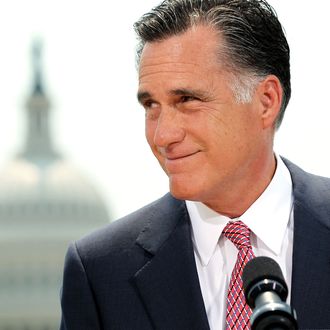 At least they didn't make an effigy.
Photo: Alex Wong/2012 Getty Images
They're not quite old enough to vote, but a couple teens from Takoma Park, Maryland, harshly displayed their political leanings during a Fourth of July celebration Wednesday when one teenager with giant cardboard scissors chased another in a bleach-blond wig, the Washington Post reports. Of course, the scene was a reenactment of Romney's curious prep school prank that the Post first reported on in May, during which the candidate allegedly gave a soft-spoken student a forcible haircut because he couldn't countenance the guy's shaggy blond hairdo.
The teens wisely used scissors incapable of cutting so they could keep the wig intact throughout the two-mile parade route, and also so nobody got inadvertently stabbed.
The "ultra-liberal" Takoma Park residents didn't stop there. According to the Post's David Montgomery, revelers attacked Romney's character by acting out the horror suffered by the Romney family dog Seamus during a trip in 1983. Montgomery wrote of the parade, "there was also a car that had a stuffed dog leaning out the window and a person in a cage on the roof — a reference to a story about Romney putting the family hound in a rooftop luggage carrier."
A local Patch reports that supporters of the group Good Dog, Bad Romney also marched with their dogs in the parade, because the canines of Takoma Park hate Romney, too.