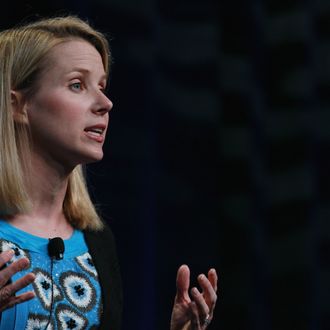 Photo: Justin Sullivan/Getty Images
On the same day Yahoo announced that Google's Marissa Mayer is taking over as CEO, she dropped another bombshell in a manner befitting one of the leaders of Silicon Valley. Late on Tuesday night, Mayer tweeted, "Another piece of good news today — @zackbogue and I are expecting a new baby boy!" along with a link to a Fortune article in which she reveals she's due on October 7. Mayer has said she's passionate about "helping to remove that stigma" that girls can't be feminine and excel at technology, and now she'll continue to challenge stereotypes by stepping into one of the most prominent roles in the tech world at a time when it's assumed that women become less focused on their careers.
The New York Times reports that many believed Mayer was slowing down to start a family in 2010 when she took a lower-profile job as head of Google's location-based services. Instead, her pregnancy coincides with one of the most demanding times in her career. As noted earlier, Mayer will be dealing with tremendous challenges as Yahoo's CEO, but she stresses in the article that her pregnancy won't get in the way. "I like to stay in the rhythm of things," she says of the position she starts on Tuesday. "My maternity leave will be a few weeks long and I'll work throughout it."
It seems her pregnancy wasn't an issue for the company either. Mayer learned that she was expecting in January and told Yahoo's board shortly after she was offered the position on June 18. A source "close to the situation," told All Things D, "It was not part of the consideration," adding, "Like every other professional woman, she has to weigh all the factors in doing her job and having a family." Mayer says none of the Yahoo directors expressed reservations during the hiring process. "They showed their evolved thinking," she said. 
Would the board have been as evolved if she'd announced that she was taking half a year off after only two months on the job? That's probably less likely, but Mayer's controversy-free ascension to the top spot at Yahoo is still a welcome sign of progress in the business world.