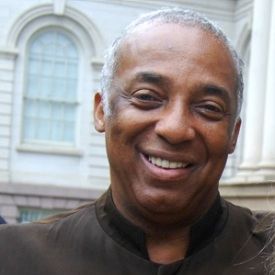 After Hakeem Jeffries's primary win in New York's Eighth Congressional District less than two weeks ago, a collective (and audible) sigh of relief could be heard from the state's Democratic Party, not to mention several liberal groups who'd panicked at the thought of a national pulpit for City Councilman Charles Barron. Among them, MoveOn.org was responsible for an e-mail blast highlighting Barron's unfortunate habit of praising despised despots like Libya's Muammar Qaddafi and Zimbabwe's Robert Mugabe. (See also: wanting to slap the "closest white person … for [Barron's own] mental health." Now, in an interesting (and perplexing) about-face, the organization has issued an e-mail apology — reprinted by the New York Observer —calling its own attacks on Barron "offensive and inflammatory."
The email was all too reminiscent of the kind of attacks that have been used by our opponents to divide progressives over and over again—white folks from African Americans, Jews from non-Jews, recent immigrants from descendants of immigrants, etc.

MoveOn is a community of 7 million of us from every corner of our country. There are MoveOn members of every race, religion, and color. We aspire to bring folks together to fight for racial and economic justice and democracy—with respect for everyone. This email did the opposite.

After the email was sent, we couldn't undo the harm it had done. But we wanted to do our best to avoid doing any more damage. So we didn't say anything further about Councilman Barron for the duration of the race, limiting our involvement to communicating the positive reasons that MoveOn members in the district chose to endorse Assemblyman Hakeem Jeffries back in April.
It seems the group was startled by accusations — from, among others, community organizer Kenyon Farrow — that "MoveOn.org are THOSE whites" living in ever-gentrifying Bed-Stuy, Fort Greene, and Clinton Hill, who just want a "Black [person] they're more comfortable with." A wake-up call to everyone who thought racial politics was just a Republican problem.