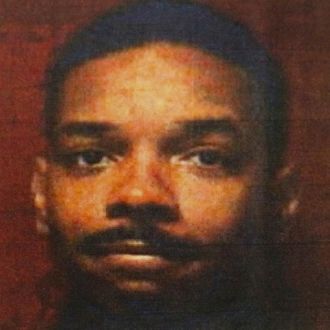 A deranged man launched an unprovoked attack on an MTA police officer at about 9:30 a.m. Wednesday outside the Sutphin Boulevard station in Jamaica, Queens, stabbing the officer in the eye with a four-inch gravity knife. Forty-five-year-old veteran officer John Barnett was talking to a taxi dispatcher when 46-year-old Edgar Owens charged him, yelling "I'm going to kill you! I'm going to kill you!" according to a witness. Despite the "devastating" blow to his left eye, Barnett maintained the presence to draw his gun and order Owens to drop his knife.
Security footage shows that Owens continued to approach a bloodied Barnett, at which point the officer fired four shots, hitting him in the jaw, chest, and hip, reports the Times. Both Owens and Barnett were taken to the hospital where Owens was pronounced dead and Barnett underwent a five-hour operation to repair the knife wound that "almost severed his eyeball in half," said an MTA spokeswoman. The spokeswoman added that it's unlikely that he'll recover vision in his left eye.
Owens has long rap sheet and was previously treated for psychiatric issues according to his family. He was arrested in 2006 for walking into Manhattan's 26th Precinct and punching a police officer, and in 2007 he declared his intention to do the same at the 103rd Precinct in Queens.
Barnett is a is a lieutenant commander is the Navy Reserves and served in Afghanistan. "He said he was going to go into surgery as a fighter and was going to come out as a fighter," said Belinda Barnett-Andrea, Barnett's sister. "He loves serving his country. It's ironic that today is the Fourth of July."