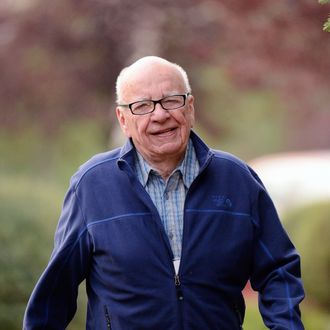 Reduce the smile by 40 percent, and that's how Murdoch feels about Romney.
Photo: Kevork Djansezian/2012 Getty Images
Mitt Romney failed to impress Rupert Murdoch at a series of private meetings, but he finally started to win him over this week by getting angry and allowing a surrogate to float a personal attack against President Obama. Unfortunately, Murdoch's followed up his praise with another critique, but if Romney puts a little more effort into wooing Murdoch, maybe he can get Fox News to kinda want him to be president instead of the secret Muslim socialist who's ruining America.
On Thursday, Murdoch took to Twitter to share another somewhat cryptic commentary on the presidential campaign:
At last Romney attacks, looks better. Keep it up! Still needs to address all Hispanics, 80 per cent Multi- cultural. Dole got 20, Bush 45.
The media mogul has pressed Romney on winning over Hispanic voters before, and he isn't convinced that Romney having a son who speaks Spanish is enough to get their vote.
Murdoch also went back to one of his favorite Twitter topics: complaining about Obama. In another win for Romney, Murdoch repeated the Romney campaign's inaccurate claim that Obama's "you didn't build that" quote was a gaffe, not a distortion of his point about successful people receiving help from fellow citizens and the government:
Yesterday Obama went off script, showed real self ie government omnipotent, individuals secondary. Must be big damage.
Some like to unwind with a stiff drink after a rough week, but 140 characters of encouragement from a conservative billionaire is just what Romney needed.