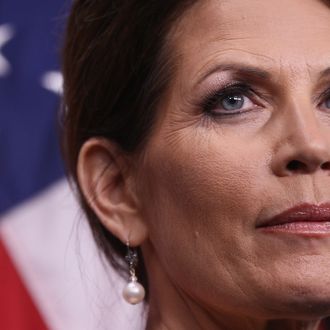 Bachmann.
Photo: Win McNamee/2011 Getty Images
The Muslim Brotherhood has joined the chorus expressing shock and dismay over Michele Bachmann's accusation that Hillary Clinton aide Huma Abedein might be a spy for the Islamic organization. John McCain, the House Intelligence Committee, and Bachmann's former campaign manager Ed Rollins have denounced the congresswoman's statement, but Erin Cunningham of the GlobalPost's interview with Muslim Brotherhood leaders in Egypt marks their first public remarks on the charge, and it was worth the wait. Cunningham reports: >
"I haven't heard these rumors, but they strike me as ridiculous," said Ahmed Al Nahhas, a long-time Brotherhood activist and leader in Egypt's second-largest city, Alexandria. "Surely the United States government selects its employees very carefully."
The organization's leaders didn't know who Huma Abedin is, and were either unaware of Bachmann's accusations or confused by them.
"The Muslim Brotherhood can't even penetrate the Egyptian government," said a Brotherhood leader in Egypt's Daqheleya province, Ibrahim Ali Iraqi, in response to the accusations his group had infiltrated top US agencies.