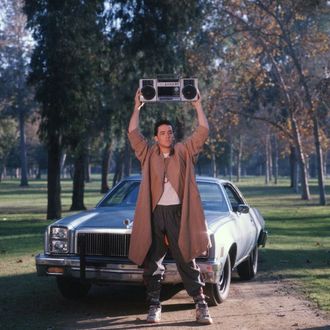 Nasdaq CEO Robert Greifeld, outside Facebook's headquarters.
Photo: Twentieth Century Fox
Sometimes, when a guy and a girl are in love, things start going wrong. Maybe the glow of new romance fades. Maybe texts from strange girls start showing up on the guy's phone. Maybe the girl asks the guy to do little things for her — say, take her to a movie, or execute timely order confirmations on her IPO day, or just say sorry when his technological glitches cost her investors millions of dollars – but for some reason, he can't deliver like he used to.
Maybe, after this goes on long enough, the girl tells her friends she can't hold on to the past anymore. She's thinking about dumping him.
Facebook and Nasdaq, the stock exchange that bungled its IPO, are on the outs, according to DealBook, which reported that the social network is considering getting out of the troubled relationship and moving to the New York Stock Exchange, after an IPO that was marred by technical glitches and has led to a phalanx of shareholder lawsuits.
Facebook is upset about Nasdaq's lack of communication, according to people close to the company. Executives were left out of important decisions like whether the stock should begin trading at all given the crush of early issues. Once trading did begin on May 18, Nasdaq did not contact Facebook's chief financial officer, David Ebersman, who was the main point person for the I.P.O.

Executives at the social network have also grown frustrated by the technology problems. Many order confirmations were delayed. These were eventually released hours later, along with stock that ended up in a separate Nasdaq account. But the unexpected flood of shares looked like a giant order of roughly 11 million shares, weighing on the stock, according people with knowledge of the matter.
The Wall Street Journal reported, hours after DealBook's dispatch, that Facebook had decided to stick with Nasdaq, despite its misgivings about the exchange.
Regardless of whether or not Facebook is still considering defecting to the NYSE, Nasdaq is in the doghouse, and it knows it. CEO Robert Greifeld can't even apologize these days without feeling Zuckerberg's cold shoulder:
Amid mounting pressure, Mr. Greifeld made one more visit to Menlo Park three weeks ago.

In a meeting with Mr. Ebersman and other executives, he apologized, according to people briefed on the meeting. He acknowledged that he had said that Nasdaq's problems did not impact Facebook's price, but conceded that that assessment did not fully factor in the psychology of the market.

After that, a chill settled in the room, as several executives quietly scrawled his statement on their notepads.
We hate to see you like this, Nasdaq. But clearly, it's going to take more than a closed-door apology to win back Facebook after all that's gone on between you two.
It's time for drastic measures. Skywriting? Singing "I'll Be" to David Ebersman under the Palo Alto moonlight? This thing is salvageable — but it's time to put your pride aside and beg.