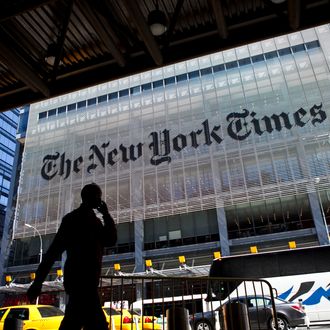 Diligent readers of the New York Times are, on one hand, de facto public editors, tracking large-scale shifts in the hallowed pages and speaking up — in their own best interest — to keep the paper honest. On the other hand, we (yes, us included!) are as bad as Star Trek or Community fans with all of the endless nitpicking, eager to point out minor inconsistencies and silly patterns over time. Obsessives have already noticed the Paper of Record's love for turns of phrase like "a portrait emerges" and "into sharp relief," but another popped up a few times this weekend: "So far three stories in my NYT A section with either 'glimpse' or 'offers a rare glimpse' in headline or lede," tweeted Talking Points Memo reporter Benjy Sarlin about the Sunday edition. To which Times reporter Nick Confessore responded, "Guilty!" But he's not the only one.
In 2012 so far, a variation of the phrase "rare glimpse" turns up nearly 30 times (not including within quotes) across all sections of the Times and its website. But what's being glimpsed is always much more varied than the way in which it's described. Consider the scope:
And it goes back much further — to say nothing of not-rare glimpses! And before some crafty thesaurus wizard gets to work, "a rare look" has more than its share of play too (sometimes within the same story).
But word choice aside: Thank you, Grey Lady, for being our ever-curious eyes.