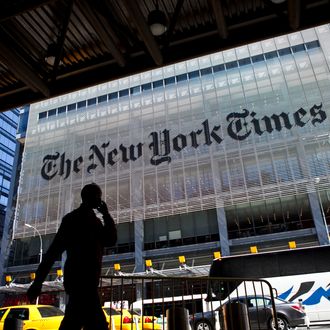 Advertising revenue continues to sink at the New York Times Company, which reported a second-quarter net loss of $88.1 million today. But a glimmer of hope can be seen in circulation revenue, which has actually gone up through print subscription price increases and the online paywall. At the company's big three papers — the Times, International Herald Tribune, and Boston Globe — print and digital ad dollars dipped 6.6 percent to $220 million, while circulation revenue was up 8.3 percent to $233 million. The historical rebalancing, which occurred at the News Media Group for the first time in Q1, may indicate a sea change in an industry that has long relied on advertising to stay afloat. "They're probably the first major paper that has crossed that line," media analyst Ken Doctor of Newsonomics told Daily Intel. "It is an interesting moment."
The transition was accelerated by the death spiral of print ads, and the stalling of growth for online advertising, but more expensive subscriptions and charging for website access play a role as well. (Note the big ads on the website lately for a summer subscription sale.)
"Getting away from the historic huge reliance on advertising is definitely a plus," said Poynter media business expert Rick Edmonds. "They're still trying to stabilize advertising and that hasn't been wildly successful yet. But the digital subscription effort has been more successful than many people wanted it to be." The news group now counts 509,000 digital subscribers, up from 454,000 in March.
The morning paper costs more, too, but most people don't seem to mind. "There's a large group of people that values what the Times does as a news organization, and that their willingness to pay is greater than we thought it was," Doctor said. "There's an alchemy there of aggressive pricing, access to good apps, and the content itself. If that's in place, it looks like there's a fairly large number of people who will pay for it."
News organizations in a similar positions are also seeking alternate revenue sources, including events, education, and other digital businesses. Mixing and matching these money-makers into a sustainable future will fall largely to the Times Company's next CEO, who chairman Arthur Sulzberger Jr. indicated will be unveiled soon. After pushing out Janet Robinson at the end of last year, the company "could announce a successor as early as September," the Times itself reports.
Whoever is chosen will be taking on a new challenge: papers that can no longer depend on ad revenue, but must rely more than ever on the whims of the customer. "We have the pieces of an emerging business, we just have to see how far how far we can go," said Doctor. "The future looks like it's going to be a majority reader revenue. What we don't know is at what level. And that's huge, because it tells us how big of a newsroom they can support."