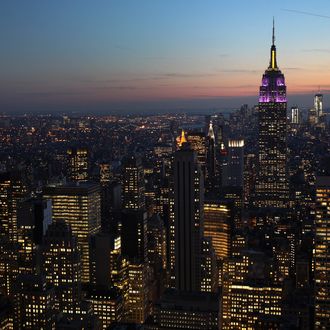 Awaiting renovation. All of them.
Photo: John Moore/2012 Getty Images
AMNY reports that, according to a survey to be released this week by a construction membership association ICO, New Yorkers have really started letting their wallets open and wood chips fly during home remodeling projects over the past year. "Those choosing to renovate are not holding back on their budget," ICO president Sebastian Donovan said (who indeed would like to see his member groups have clients not hold back) of the NYC Home Renovation Spending survey, which was conducted from May 2011 to 2012. Donovan added that many New Yorkers opted for larger, more comprehensive jobs, and that 38 percent of customers ponied up for a gut renovation or other major jobs.

The survey findings are consistent with a Wall Street Journal report from earlier this year that found Americans were spending more on home improvements for the first time in years. Because the misery of a home's plummeting value is a bit easier to tolerate when there's a kitchen island to cry on.