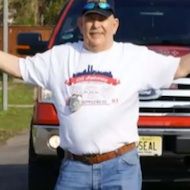 The "N-SEAL" vanity plate was a hint. 
New Jersey's Attorney General's office sued two men on Monday for defrauding the public by raising tens of thousands of dollars for an unregistered 9/11 charity, donations that they allegedly used as a personal slush fund. The pair — 66-year-old Mark Niemczyk and 40-year-old Thomas Scalgione — drove around the state in a truck emblazoned with the names of 9/11 first responders who died in the World Trade Center attacks, reports NBC New York. According to New Jersey 101.5, Niemczyk allegedly presented himself as a former Navy SEAL when he solicited donations in the truck with the misleading plates.
Both of the accused previously dabbled in crimes of dishonesty: Niemczyk pleaded guilty to welfare fraud in 1989, while Scalgione has been convicted of theft, forgery, and fraudulent use of credit cards, according to the Attorney General's office.