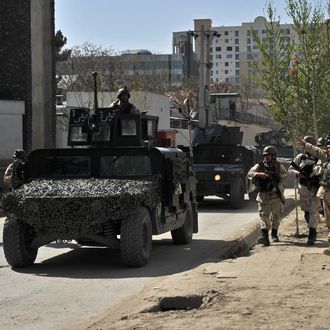 Photo: MASSOUD HOSSAINI/2012 AFP
The summer of journalistic embarrassments rages on today with the tale of an NPR intern who lifted portions of an intense first-person story from a 2001 diary in the London Review of Books. Ahmad Shafi's piece, "A Taliban Execution Brings Back Painful Memories," described witnessing a public killing at a Kabul soccer stadium in 1998, but has been "unpublished" after it was found to be a stripped down copy of Jason Burke's take on a very similar sounding event. 
Poynter reports that Shafi came to intern for NPR in Washington, D.C., after working as a producer and fixer in the Kabul bureau, and that despite the screw-up, he still has a job, according to NPR News' senior vice president. That's a lighter sentence than the Wall Street Journal intern who was fired immediately when she found to be fabricating sources just last month, but both incidents go to show that in the time of Google, you will get caught. Period.