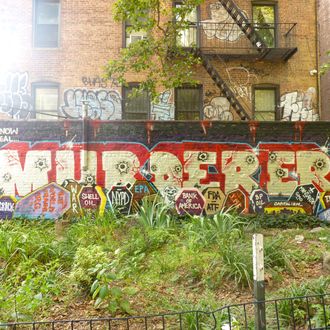 When the artist Alan Ket had his political mural painted over by police, they said neighbors were complaining about the content, which included the word "murderers" and tombstones for groups like the EPA, BP, and the NYPD. After some community outcry against the censorship, Ray Kelly went on to say, with a splash of condescension, "Community leaders there and the owner of the building wanted the mural, if that's the proper name for it, removed. So we did it, and that's what we do. We do it throughout the city." That's despite the approval Ket received five years ago from the building's owner to paint the wall how he pleased. Now, he apparently needs NYPD permission. 
DNAinfo reports that Ket has to seek the go-ahead from police before he moves forward with a new design, according to the landlord of the building. "I told him I found it kind of strange he would feel he needed to get approval or permission or run anything by the police, but he said that he doesn't want any problems with the police, that the police are a bit threatening," Ket said. "It's a little bit crazy."
And whether it was neighbors or community leaders or the police's own whims that sparked the original NYPD paint job remains unclear; no elected officials nearby have spoken out against the graffiti. The subject has sparked hundreds of heated comments on a local community forum, where Inwood residents have even put Ket in touch with the NYCLU. He has a meeting with the civil liberties group on Monday to discuss how to proceed.
In the meantime, while the wall remains black, someone hung a framed a photo of the erased mural on a fence nearby.