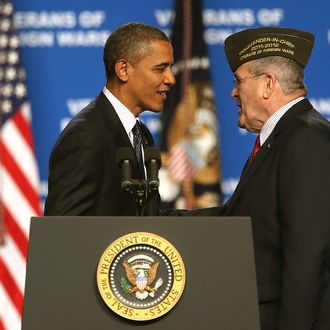 "I agree, my bin Laden take-out was pretty impressive."
Photo: Justin Sullivan/2012 Getty Images
The break from campaigning in the wake of the Aurora, Colorado, shooting officially ended today. For Romney that meant continuing to distort President Obama's "you didn't build that" remark, while Obama turned his attention to undercutting the foreign policy attack Romney will launch when he heads overseas this week. The Obama campaign painted Romney as inexperienced and too quick to call for war, while the president used a speech before the Veterans of Foreign Wars convention to remind everyone of his foreign policy trump card: As promised, he took out Osama bin Laden.
President Obama's speech in Reno, Nevada, was the first time he's addressed the VFW convention since he was running for office in 2008, and he took the opportunity to point out that he kept his word about sending American troops into Pakistan to take care of bin Laden. Obama said that while "that comment drew quite a bit of criticism, thanks to the courage and skill of our forces, Osama bin Laden will never threaten American again and Al Qaeda is on the road to defeat."
Obama never used Romney's name during the speech, but he criticized his stance on Afghanistan, noting that "some" said "bringing our troops home last year was a mistake." (Later a campaign spokesperson noted that opposition to the timetable for withdrawal is "one of the few foreign policy specifics Romney has outlined so far.") "When you're commander in chief, you owe the troops a plan," Obama said. "You owe the country a plan."
A spokesman for the Romney campaign fired back, once again criticizing the president for underestimating Hugo Chávez, promising Russia more "flexibility" following the election, and failing to visit our "closest ally in the Middle East" — i.e. Israel, where Romney just happens to be headed during his trip. "It is clear that President Obama's foreign policy is confused, ineffective and has weakened our influence in every region of the world," said campaign spokeswoman Andrea Saul. (This time there was no caveat regarding the bin Laden thing.)
The use of the word "confused" is a bit unfortunate, since it was also reported today that Romney may have misunderstood Australian Foreign Minister Bob Carr when he told him yesterday that the rest of the world sees "America in decline." Carr now claims that he was actually complimenting America on the strength of its economy, and said, "America is just one budget deal away from ending all talk of America being in decline." Romney hasn't even left the country yet, and he's already learned that understanding foreign accents can be a bit tricky.