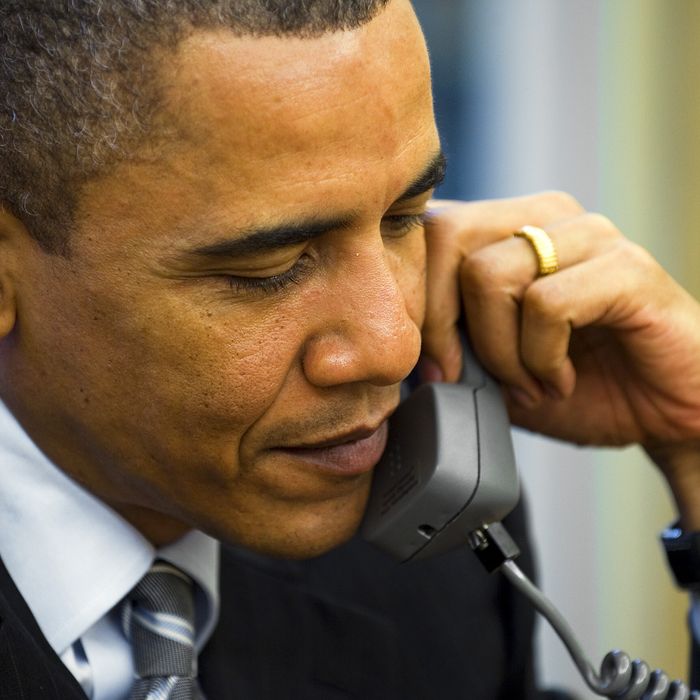 Working the phones. (JIM WATSON/AFP/Getty Images)
Photo: JIM WATSON/2010 AFP
The hyperactive political cycle dictates that any and every development must be maximized for fundraising and publicity potential, and the Supreme Court's ruling this past week upholding Obamacare is obviously no minor "development," with Romney's campaign raising $4.6 million off it and launching a new "repeal Obamacare by replacing the president" meme (with a little help from the Drudge Report). But with no counterbalancing Obamacare boost for the president in sight, the Obama team is now in full panic mode, according to new reporting from the Daily Beast's Lloyd Grove (a sometime New York contributor) and the campaign e-mails deluging in-boxes.
In what Grove described as a "rambling conference call" late yesterday (someone slipped him a tape), President Obama practically begged big donors to max out. "I'm asking you to meet or exceed what you did in 2008," the president said, speaking from a specially designated campaign phone aboard Air Force One, "because we're going to have to deal with these super-PACs in a serious way." While he praised the Democrats' superior ground game, Obama was clearly perturbed by the Republicans' big money advantage, warning that, "We just can't be drowned out. A few billionaires can't drown out millions of voices."
The truth is that early money is always more valuable than late money. And what we don't want to do is be in a situation where, because everybody thinks that somehow we're gonna win or people will just think Mr. Romney doesn't know what he's talking about—and then suddenly we get surprised later because it turns out that a couple of billionaires wrote $20 million checks and have bought all the TV time and we find ourselves flat-footed in September or October… We've got to make sure that we purchase advertising through August and September before the conventions. I think it's fair to say that if we wait till the last minute we could be in for a pretty rude surprise, and that's part of what we're trying to avoid.
As Grove listened, what he heard was a president neither basking in the glow of the Supreme Court ruling, nor his slight polling bump, but instead sounding "weary and a tad worried." At one point, Obama even admitted that, "If things continue as they have so far, I'll be the first sitting president in modern history to be outspent in his reelection campaign."
While the president scrabbled for large checks, his campaign and Democratic fund-raising committees turned up the heat on the campaign's small donors. BuzzFeed's Zeke Miller took a nifty screenshot of his in-box chronicling an "emotional rollercoaster" of fourteen fund-raising e-mails over the course of the past week, some with subject lines like "We're getting outspent," "Let's win the damn election," and "Excuse me."
It wasn't just the SCOTUS decision that sparked this fund-raising panic: Yesterday marked the end of the FEC's second quarter reporting period. After Romney out-raised Obama for the first time this past May — by $12 million, no less — the Obama campaign clearly wants to prove that it's not giving up the money primary without a hardscrabble fight.