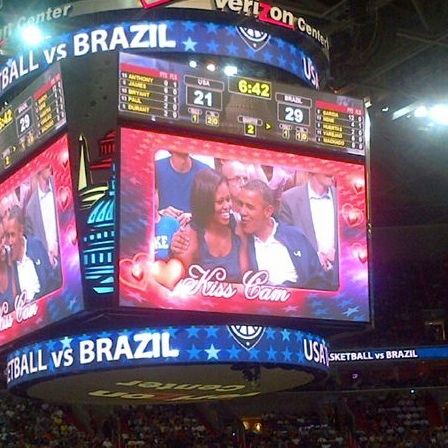 C'mon honey, it's the Kiss Cam.
Photo: Michael Lee/Twitter
The Kiss Cam at the Verizon Center in Washington, D.C., didn't give President Obama and the First Lady a pass Monday when it featured them in the first half of the exhibition game between the U.S. and Brazil. The Washington Post's Michael Lee wrote on Twitter that Michelle resisted the president's advance when the camera displayed them on the Jumbotron. Based on the image, it looks like Barack made a pretty earnest effort with lips puckered (and an arm around to pull her in); however, she kept her distance, causing the crowd to boo. Foul on Michelle.
Update: The Verizon Center gave a rare Kiss Cam double-dip to the Obamas and according to Luke Russert, Michelle gave Barack a "nice one on the lips." Sweet redemption!!