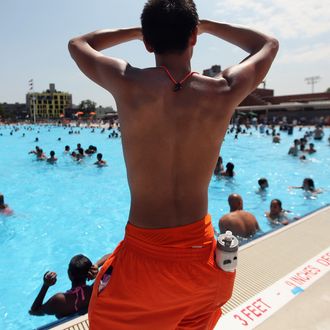 A lifeguard trying to do his job.
Photo: Mario Tama/2012 Getty Images
Only five days after opening for summer and three days after backflipping teens caused the early closure of the McCarren Park Pool in Williamsburg, another melee broke out on Monday evening resulting in an arrest, one officer getting punched in the face, and an arm injury to another, Gothamist and the Times report. (One witness told Gothamist that police arrested at least four.) Like on Saturday, the mayhem began when a group of youths allegedly ran around and did backflips into the pool — in shallow water — around 5:20 p.m.
According to CBS New York, lifeguards attempted to enforce the pool's No Diving rule, but the young hooligans met those efforts with curses and threats, prompting someone at the pool to call police. The NYPD responded in full force, with not two or five or even ten officers, but at least twenty.

One officer claimed that he was punched in the face during the altercation. Another officer channeled his inner Big Lebowski, shouting to a young man in handcuffs, "That's what happens when you hit a cop!" One youth faces charges for assaulting an officer and two others were charged with disorderly conduct. 
Before this latest disaster, DNA Info delved a bit deeper into the attendant damaged caused by some people frequenting McCarren Park Pool and the surrounding neighborhood, namely trash, graffiti, and human waste. Residents complained that the city hasn't provided necessary trash cans and portable toilets, and that vandals have tagged nearby buildings with graffiti. "People are going to the bathroom by the side of the street and dumping garbage everywhere," said Mike Smolinsky, a member of community group Friends of McCarren Park. "There's been a lot more graffiti too."
A Parks Department administrator responded to some of the complaints, saying that the department would bring more trash cans. But as of Monday evening, a DNA Info source said the department had not furnished additional cans or toilet facilities.
As for the violence at the pool, there's a simple solution: A small number of youths need to stop acting like idiots so everyone can enjoy McCarren Park Pool and cool off in peace.