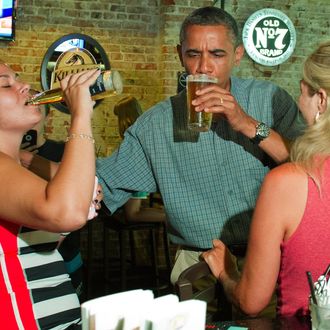 Obama nursing a beer at Ziggy's.
President Obama's two-day bus tour through the Rust Belt brought him to Ziggy's Pub and Restaurant in Amherst, Ohio, on Thursday, where a patron made a peculiar but potentially hilarious offer to the president: "I'll arms-wrestle you for your vote," said Jeff Hawks, according to the pool reporter. But Obama rebuffed. "No," he said. "I'll play basketball for your vote." No word on the size of Mr. Hawks so we don't know if Obama would have been better off on the court, where his prowess is still uncertain. (Potential headline?: Obama posterizes Jeff Hawks, wins swing state vote.)
But was Obama more concerned about (potentially) sacrificing Hawk's vote, or losing the arm-wrestling match and Hawk's vote with it, plus the embarrassment of getting his commander-in-chief biceps pounded onto a bar table? At least it would have made for good theater. A much better match would have been Hawks versus the First Lady, who surely would have dominated him with her incredible guns.