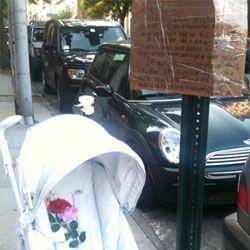 The original.
Photo: sugarpond/Flickr
The original Park Slope ghost stroller appeared in 2010, leading locals — and subsequently the New York Times — to wonder if it was an oblique tribute to an accident no one could identify or a joke about gentrification. The answer? Not sure! Everyone lost interest. But mystery has returned to the neighborhood, the Brooklyn Paper reports, in the form of another baby-mobile painted all white, like the city's memorial "ghost bikes," and placed near a bike rack on Prospect Park West near 10th Street. And this time, a clue: a little Jamaican flag affixed to the seat.
But once again, there are no real leads. Cops say no traffic deaths have occurred in the area lately, and "definitely none involving a child or a carriage," said a spokesperson. "The cynic in me wonders if it's just a prank," said one father who lives nearby. "Or it could be art?" Gentrification art, even — an homage to two years ago, pre-babyccinos, when Park Slope was pure.