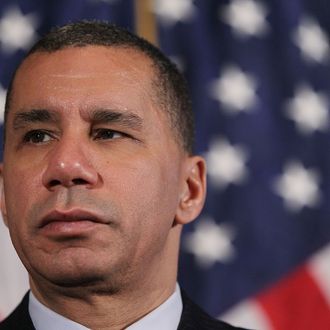 Photo: Mario Tama/2010 Getty Images
Issues involving former New York Governor David Paterson, his aides, and the State Police were responsible in part for ending his gubernatorial campaign, but today more details have emerged about an earlier incident involving his security detail. Newly uncovered court documents, e-mails, and interviews suggest that shortly after taking office in 2008, Paterson's top aides tried to boot at least ten white troopers from his security detail in favor of black or Latino officers.
The New York Times reports that new information has come to light on the incident because newspapers obtained a transcript of testimony given during an investigation by Andrew Cuomo, who was then attorney general, leading some of those involved to speak for the first time about the issue.
Preston Felton, who was the acting superintendent of the State Police at the time, claims that top Paterson aides sent him "a typed request to remove 10 to 15 white troopers, and 2 African-American troopers they didn't like, and it was clear to me that they wanted to remove all the white troopers and replace them with African-American or Latino troopers." Noting that reassigning officers solely owing to their race tends to result in a slew of discrimination suits, Felton refused the request, leading to an intense feud with the administration. He says things got so bad that Charles O'Byrne, Paterson's top aide, threatened him to the point that he considered making a harassment complaint.
Former Paterson aides deny Felton's account and say there was never a formal request to reassign the officers. Clemmie Harris Jr., another top aide, adds that the administration was so focused on economic problems that "issues involving the governor's executive services detail weren't even an afterthought." Ultimately, no major changes were made to the detail, but if Paterson is still marveling at how Governor Cuomo's administration was able to accomplish so much, he may want to look into how much time his team actually devoted to changing the racial makeup of his police entourage.