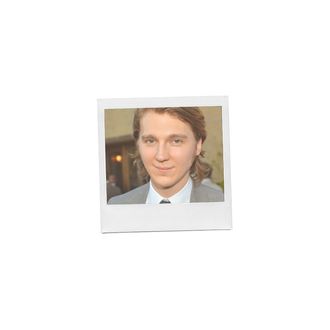 Photo: Alberto E. Rodriguez/Getty Images
Name: Paul Dano 
Age: 28
Neighborhood: Cobble Hill
Occupation: Actor, currently appearing in Ruby Sparks, in theaters now.
Who's your favorite New Yorker, living or dead, real or fictional? 
Fictional: Ratso Rizzo. Real … I guess that would mean they have to be born in New York, huh? Let's say honorary favorite New Yorker is John Lennon, and favorite real New Yorker is Biggie, because he's the best. 
What's the best meal you've eaten in New York? 
An anniversary dinner with my lady at Le Bernardin. But my second favorite thing about food in New York is that I can get it at any time of night, so I gotta also give a shout-out to the ol' deli sandwich.
In one sentence, what do you actually do all day in your job? 
Make believe.
What was your first job in New York?
My first paying job might have been doing a play, actually. My mom paid me to dress up as a flounder at my sister's Little Mermaid–themed birthday party when I was little.
What's the last thing you saw on Broadway?
It wasn't on Broadway, but the last play I saw was the Uncle Vanya down at the Soho Rep right now. I think it was a special and unique production and I love that kind of thing so I was definitely into it.
Do you give money to panhandlers?
I do, if I have some loose change in my pocket I give it. When I grew up living in Manhattan we were next to a church and there were always homeless people sleeping in there. As a young kid I remember being very affected by that.
What's your drink?
I guess the most common drink I order is a Manhattan. I like rye whiskey for it, but I'll do a bourbon Manhattan sometimes too.
How often do you prepare your own meals?
When my girlfriend's away I cook a big vat of meaty pasta and sauce and eat that for about a week. Then I eat out the rest of the time.  When she's home we eat at home probably twice a week. I chop, she cooks.
What's your favorite medication?
Vaseline.
What's hanging above your sofa?
Polaroid pictures.
How much is too much to spend on a haircut?
I don't like to spend a lot of money on haircuts: I'll sometimes grow my hair and get an acting job and get them to cut it for free.  I think for a lady though, it's okay to spend a lot on a haircut.
When's bedtime?
I try to be asleep by 2.
Which do you prefer, the old Times Square or the new Times Square?
The old — I grew up there, and I guess my earliest memories of it are the late eighties. I wish I could've seen it a long time ago, though, back in the jazz days. If I could time travel in any city, it would definitely be New York. Actually, maybe not … If I went to Europe I could travel back even further. But I like the evolution of New York. I think the theaters in the new Times Square are good for the city and the city's culture, but that's the place I feel the most foreign, even though I'm from here.
What do you think of Donald Trump?
I think he should finance my next film.
What do you hate most about living in New York?
The crowds, but I have to say there's not a lot I hate about it. I live here for a reason.
Who is your mortal enemy?
Myself.
When's the last time you drove a car?
A week or two ago, from Brooklyn to Long Island. I borrowed one from a friend to go visit another friend.
How has the Wall Street crash affected you?
It's affected what I do, it's affected the city I live in, it's affected my family, and it affects the way you go about making a living and thinking about your future.
Times, Post, or Daily News?
Times. We get delivery Friday to Sunday — the Weekender — and that gives us online access as well.
Where do you go to be alone?
My apartment [laughs]. That's such a lame answer. I think in New York though, that's true.
What makes someone a New Yorker?
Class and brawn.