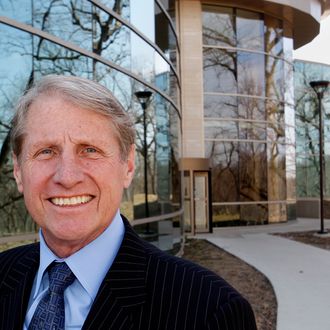 Russell Wasendorf, Sr.
Photo: Rick Chase/AP
There is seemingly no bottom to the sadness barrel that is the implosion of PFGBest, an Iowa-based brokerage firm whose CEO, Russell Wasendorf Sr., tried to kill himself in his car after admitting that he had been conducting a massive, $200 million fraud.
Wasendorf, who survived the suicide attempt and is reportedly still hospitalized at the University of Iowa, was arrested today and charged with lying to regulators about the extent of his firm's financial problems. His suicide note, which was found by his son inside the car, was included in a court complaint released today.

Wasendorf began his note, "I have committed fraud." He continued:
For this I feel constant and intense guilt. I am very remorseful that my greatest transgressions have been to my fellow man. Through a scheme of using false bank statements I have been able to embezzle millions of dollars from customer accounts at Peregrine Financial Group, Inc. The forgeries started nearly twenty years ago and have gone undetected until now. I was able to conceal my crime of forgery by being the sole individual with access to the US Bank accounts held by PFG. No one else in the company ever saw an actual US Bank statement. The Bank statements were always delivered directly to me when they arrived in the mail. I made counterfeit statements within a few hours of receiving the actual statements and gave the forgeries to the accounting department.
Later in the note, Wasendorf detailed how he had falsified bank documents "using a combination of Photo Shop, Excel, scanners, and both laser and ink jet printers" in order to fool regulators into believing that his firm, which is now bankrupt, had adequate money in its accounts. Those faked documents were among the many red flags the regulators missed, and PFGBest customers are understandably upset that their money has now gone up in smoke.
"You're prepared to take risks," Mark Tucker, a part-time investor who spoke to DealBook said. "But you don't expect risks to come from money being stolen out of your account."
Wasendorf was viewed as a local hero in his hometown of Cedar Falls, Iowa. The accolades and extravagances the business tycoon had accumulated over the years included a triathlon he sponsored, a restaurant he owned, and a private jet he used to fly to Lady Gaga concerts. And his suicide note was supposed to be a final, shocking revelation that his gold-plated reputation was based on a fraud.
Instead, assuming he recovers, it's probably just the beginning of a very sad, very long ordeal.