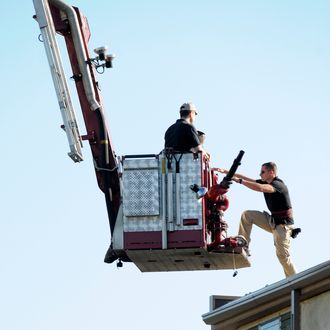 Holmes's apartment building. (Getty Images)
Photo: Chris Schneider/2012 Getty Images
With the help of federal officials, Colorado law enforcement has come up with a plan for safely entering the home of James Holmes, the 24-year-old responsible for yesterday's shooting rampage at an Aurora movie theater. Holmes, a former doctoral student at the University of Colorado, built a sophisticated booby trap in his apartment that includes a trip wire linked to explosives, as well as array of powder and liquid accelerants. "He has a level of expertise, not crude," said one official of Holmes's setup. 
Public Information Officer Sergeant Cassidee Carlson told reporters that the authorities planned to use a robot to disarm the trip wire — or trip wires — and collect the explosives. This might be followed by controlled detonations at the site and a subsequent fire, though the police say they're hoping to avoid that. One official explained that the contents of the apartment would be considered evidence, which means they will be "very cautious in how we deal with things." She added that, "We have no idea how long any of this is going to take."
Over 100 officials are on hand to participate in the process, including bomb technicians from the Bureau of Alcohol, Tobacco, Firearms, and Explosives and Explosive Ordinance & Disposal specialists. Five buildings in the immediate area have been evacuated in anticipation of the operation. 
Update, 12:30 p.m.: The police have successfully disarmed the first tripwire at the apartment's entrance. 
Update, 1:48 p.m.: A "loud boom" — apparently the result of a controlled detonation — has been heard outside the apartment. Said Carlson: "We have been successful in defeating the first threat, defeating the trip wire and the first incendiary device. There are other devices inside. I'm not going into detail what those devices are."
Update, 3:03 p.m.: A bomb technician at the scene says the apartment's living room is "littered" with around 30 IEDs. Officials are deciding whether or not it is safe to send officers inside, or to continue using the robot for now.