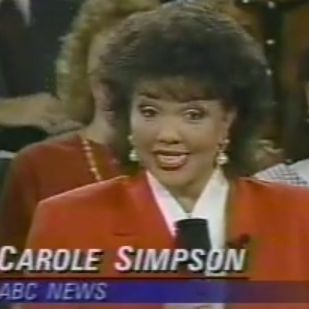 First and only woman to moderate a presidential debate.
It's now been twenty years since a woman, in this case ABC News' Carole Simpson, moderated a presidential debate — the 1992 three-way event pitting the incumbent, Bush Senior, against Bill "The Comeback Kid" Clinton and independent (chart-loving) candidate Ross Perot. For Montclair, New Jersey, rising juniors Emma Axelrod, Sammi Siegel, and Elena Tsemberis, twenty years is long enough. On Monday, the three students showed up in Washington, D.C., intent on presenting the Commission on Presidential Debates with two Change.org petitions calling for a female moderator, and totaling nearly 175,000 signatures. But the commission's executive director, Janet Brown, refused to meet with the trio, Axelrod told NPR this afternoon. In fact, Axelrod said that, "we were turned away and we were not allowed to leave our packages there either, in case they contained dangerous material."
This setback came as a big disappointment to the girls, especially after they'd alerted the commission to their visit last Friday and after Brown told CBS News they were guaranteed a meeting with a staff member, at the very least. Also boding poorly for the girls' campaign are Brown's defensive comments that nine of the general election moderators and panel members since 1988 have been women, to twelve men. But presidential debates expert and Northwestern professor Alan Schroeder tells McClatchy Newspapers he thinks the commission will ultimately choose a female moderator when it makes its announcement sometime in August, and in no small part thanks to Axelrod, Siegel, and Tsemberis's petitions.
So don't despair quite yet. We may still see a Rachel Maddow or Greta Van Susteren (or, more likely, PBS's Gwen Ifill) moderating the fall's Obama-versus-Romney showdown.