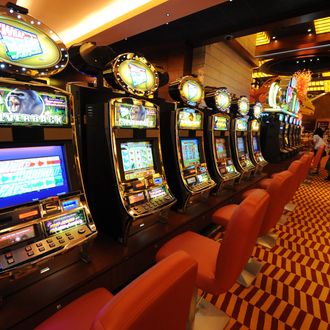 Photo: ROSLAN RAHMAN/AFP/Getty
As if taking people's money isn't enough, the new Resorts World Casino in Queens also helps relieve people of their dignity. Forty-one frustrated souls have been arrested for unleashing upon slot machines since the sin den opened nine months ago, the New York Times reports, and their levels of repentance seem low:
"I lost $300 without a bonus, so yes, I broke the machine," George Govan, a 56-year-old man from Brooklyn, told security guards when he punched through a terminal screen in January, according to court records. "And I'd do it again." (Mr. Govan pleaded guilty and was sentenced to 90 days in jail.)

… "I hit the machine because I lost five grand," said a 34-year-old man, identified in court records as Jashim Uuddin, after he caused $2,000 in damage with a punch in January, according to a complaint. He was sentenced to 70 hours of community service.
The state of New York is making out great, though!