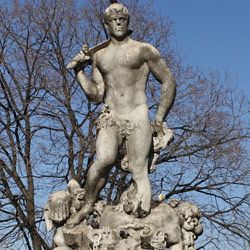 Just last year, then-representative Anthony Weiner was calling for the statue Triumph of Civic Virtue, which stands at the corner of Queens Boulevard and Union Turnpike in Kew Gardesn, to be sold on Craigslist. However, now that word has gotten out that the city may be moving it to Brooklyn, some Queens residents are preparing to fight for the allegedly misogynistic statue. It may be an eyesore, but it's their eyesore. 
As The Wall Street Journal reports, for years the dilapidated statue has drawn protests from people who object to its depiction of a burly man standing on top of two writhing female figures. However, after City Council Member Peter Vallone Jr. said this week that he was told the city plans to move it to Green-Wood Cemetery in Brooklyn, where the family of the designer Frederick MacMonnies is buried, people have begun arguing that it should stay where it is and be restored. "It was given to the people of Queens. Whether you like the statue or not it is an important piece of public art by an important sculptor," says Andrea Crawford, chairwoman of Community Board 9 in Kew Gardens.
The statue was actually first placed in front of City Hall in Manhattan in 1922, but eventually Mayor Fiorello La Guardia decided to get rid of it. In 1941 it was shipped off to Queens, where it's been ever since. Queens residents can take comfort in the thought that the statue probably won't stay in Brooklyn for long. It seems passing it around is the boroughs' version of hot potato, so eventually it will wind up crumbling in Staten Island.