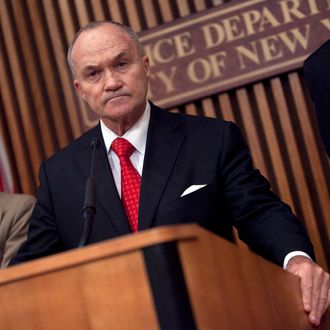 Photo: Allison Joyce/Getty Images
NYPD Commissioner Ray Kelly does not appreciate the implication that he's out of touch with the people he's charged with protecting. Brooklyn State Senator Eric Adams, himself a former NYPD officer, showed up at police headquarters yesterday and dared Kelly, the Post reports, to "come into my neighborhood, park your car, leave your security detail, leave your gun and we'll walk together and meet with grandmothers and young people." Kelly declined, not politely, and puffed his chest out a bit: "I've been doing this for over 40 years — I've been around," he said. "I've walked a lot of streets." And, after the rash of recent shootings, he pointed right back at minority leaders.
"I think there is a lack of response to the violence that occurs in some of our neighborhoods," the police commissioner said, echoing his claims that inflamed Adams yesterday. "The elephant in the room … is the high rate of violence in some of these communities," Kelly said. "The political leadership, some of them are willing to attack the Police Department but not willing to take on the big issues, which is crime happening in their own neighborhood." He added that "there should be an outcry that 96 percent of the shooting victims in this city are black and Latino." He credited only Al Sharpton with speaking up.
Adams called the comments "disgusting" and "a lie," countering that Kelly was "attempting to divorce himself from failed results" of stop-and-frisk. "700,000 innocent people who were stopped last year and we're still seeing a proliferation of guns on the streets," Adams said. "The hidden message is that blacks aren't doing enough. We, more than anyone, want the violence to end in our community."
Either way, grandstanding for reporters doesn't seem like the most effective way to address the problem, gentlemen.