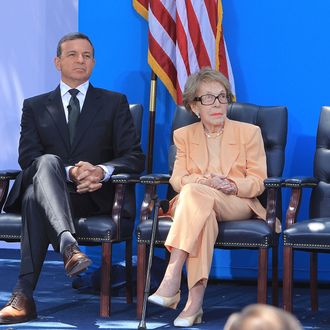 Nancy Reagan and Disney CEO Robert Iger recall all the history they've shared.
Photo: Alexandra Wyman/2012 Getty Images
In the past, the Ronald Reagan Presidential Library has had a hard time attracting people who are too young to remember that "Star Wars" referred to a flawed missile defense plan before it spawned a flawed prequel trilogy. However, that changed earlier this month. Surprisingly, it isn't the newly acquired vial of presidential blood that has the kids flocking to the museum, but an ingenious plan hatched by its directors. The library is now playing host to an elaborate display of material from the Disney archives, despite the fact that Walt Disney barely knew the president.
Earlier this month, the presidential library opened the exhibit "Treasures of the Walt Disney Archives," which features an elaborate display of items, ranging from cartoon sketches to Johnny Depp's Alice in Wonderland wig to a reproduction of Walt Disney's office. The New York Times reports that the odd partnership has been a huge for the presidential museum. In the first weekend it was open, roughly 5,300 people visited the museum rather than the usual 3,200 people, and sales at the gift shop, which now sells Disney memorabilia, were five times higher than usual. Since tickets to the presidential library cost $21 each, it also means a significant increase in revenue for the museum.
So far the only issue has been the awkwardness of trying to explain why Disney items belong at Reagan's museum when their relationship was limited mainly to the future president acting as M.C. at the opening of Disneyland in 1955 and attending the park's 35th anniversary in 1990. Robert Iger, CEO and chairmen of the Walt Disney Company made a noble attempt, saying, "He and Walt Disney did know each other. They became Californians. And they clearly had mutual respect for one another."
Actually, it seems the strongest justification the Disney exhibit's existence is its "intricately sculptured busts of all 44 U.S. presidents created for Audio-Animatronics® figures seen in the Hall of Presidents attraction at the Magic Kingdom at the Walt Disney World Resort." If that's all it takes, the Barack Obama Presidential Library will definitely feature a tribute to his close friend Justin Bieber.