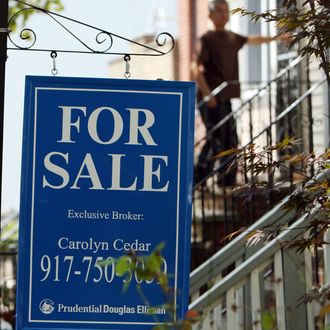 Photo: Spencer Platt/2009 Getty Images
Cautious optimists rejoice: This year's second quarter real estate reports, released today by all the big firms, continue to give market watchers some hope with to a combination of positive indicators, including rising prices and decreased inventory. Halstead's sales manager Jim Gricar says what we're seeing isn't a sexy market, but a stable one that's "fairly healthy" and on an upward trajectory: "Prices have not skyrocketed and there's a perception [among buyers] of value in the offerings."
According to Streeteasy.com, median prices for Manhattan apartments are up ever so slightly (2.4 percent) from a year ago, to $840,000. Not exactly jaw-dropping, as research director Sofia Song points out prices have now risen for the fourth month in a row. Prices are still 12 percent off the highs of 2008, but she sees "the gap closing." Some apartments did better than others: Brown Harris Stevens reports a "sharp" jump—as much as 45 percent—in the average price for studios in northern Manhattan (anything above 96thStreet on the east side, and 110thstreet on the west side), to $288,127.
Inventory is tumbling. There are 8,060 units now on the market, according to the Corcoran Group, a 12 percent decline from 2011 (and 35 percent off peak levels set in the first three months of 2009). Condo inventory is down 14 percent; co-ops, 9 percent. 
Meanwhile, sales held steady from this time last year, per Prudential Douglas Elliman's survey; 2647 properties found buyers this past quarter, down just three deals from 2011. Co-ops fared better: There were more transactions (up 10.9 percent) than last year, while condos took a hit (an 11.8 percent decrease). Miller sees falling inventory as the culprit, with condo inventory down 36 percent over the last two years.  "The number of sales is not keeping pace with the decline in inventory," he writes, "partially because some sellers don't have enough equity to trade up, even if their mortgage is not underwater."
The future looks fairly stable. Streeteasy's Song says the number of properties that went into contract in the last three months jumped a whopping 20.7 percent from last year, to 3406; many of these deals could close sometime in the next few months, which portends rosy third-quarter numbers.
Also worth noting:
• According to Halstead and Brown Harris Stevens, the average-price-per-square-foot for new developments rose 7 percent to $1146. It's taking a little less time for sellers to unload their listings; that figure's down 5 percent from a year ago to 124 days.
• Song says many of the listings that went into contract this past quarter are studios, one-bedrooms and two-bedrooms, and that rising rents have made buyers out of renters. As it happens, the A.C. Lawrence Real Life Rental Report show rents jumping 2.9 from April to May, and 1.9 percent from May to June. "Tenant resistance" is building, its survey says, and now some rental units are sitting longer on the market.
• Fewer sellers are giving discounts, per Streeteasy. The total number of listings with price cuts fell by 19.8 percent from last year to 3603 listings.