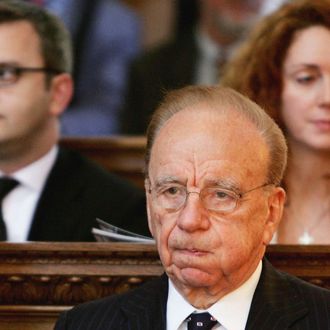 Photo: Graeme Robertson/2005 Getty Images
After months of costly civil lawsuits and dozens of arrests, phone-hacking charges against News Corp. have almost reached the top today. In their most high-profile move yet, prosecutors have charged two former lead editors at Rupert Murdoch's News of the World, Rebekah Brooks and Andy Coulson, with "conspiring to intercept communications without lawful authority."
Six other journalists will face similar charges involving victims including Paul McCartney, Angelina Jolie, and Brad Pitt. Coulson, a former aide to Prime Minister David Cameron, and Brooks, a close friend to Murdoch and Cameron, are both charged in the most weighty and symbolic case, that of missing child Milly Dowler, whose hacked phone set this entire saga into motion.
"I am not guilty of these charges," said Brooks in a statement. "I did not authorize, nor was I aware of, phone hacking under my editorship." She and her husband are also accused of attempting to cover up phone-hacking evidence and face charges of perverting justice.
The rest of today's bunch includes former News reporters Neville Thurlbeck and James Weatherup; editors Stuart Kuttner, Ian Edmondson, and Greg Miskiw; and private investigator Glenn Mulcaire, who's been a central figure in the whole scandal.
The hacking investigation, Operation Weeting, is still not over, nor are parallel probes into computer hacking and bribery. "It's not a day that reflects well on politics or the press," said the chairman of Britain's House of Commons Culture Committee. "But it's a part of the process of ensuring that this sort of thing can never happen again."