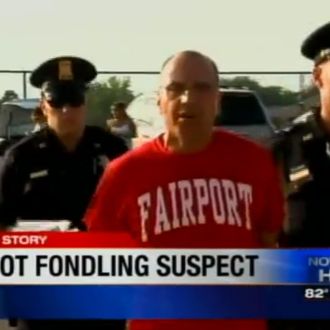 President Obama is routinely blamed for things that aren't his fault — the recession, for example, or, say, high gas prices. But Rochester-area 49-year-old Anthony Parri took Obama-blaming to new, vomit-inducing heights yesterday.
At a local library yesterday, Parri — and, again, we're warning you, this is gross — "removed a [6-year-old] child's shoe, fondled her foot and pressed it up against his nose and mouth." Another girl at the library later told her parents of a similar incident she had with Parri, who was arrested and charged with two felony counts of sex abuse and endangering the welfare of a child.
Outside the courtroom, Parri ranted at the TV cameras. "Listen, I'm being set up by the president, Barack Obama, and the city and federal government," he said, alleging what would certainly be the most unnecessary government conspiracy ever.