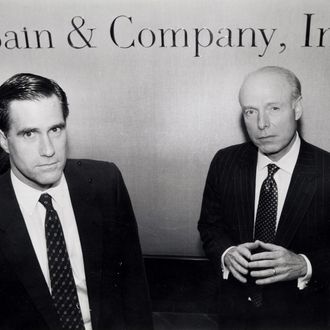 Photo: Justine Schiavo/The Boston Globe via Getty Images
Mitt Romney adviser Ed Gillespie didn't do his boss any favors today. In addition to his misleading justification for the candidate's refusal to release additional tax returns, he offered up a confusingly worded explanation for Romney's much-discussed presence on Bain Capital's SEC filings after February 1999, when he supposedly gave up his managing role in the company to run the 2002 Winter Olympics — a position which turned out to be a "16-hour-a day job" that left him unable to involve himself in the "day-to-day decisions" at the company. Apparently, the fact that Bain continued to call Romney its CEO and sole shareholder was just a result of the candidate's flawed assumption that he could do it all.
"There may have been a thought at the time that [Romney's Bain work] could be part-time. It was not part-time. The Olympics was in a shambles," Gillespie told Candy Crowley on CNN's "State of the Union."

"He took a leave of absence and in fact, Candy, ended up not going back at all and retired retroactively to February 1999 as a result," Gillespie said.
Gillespie also insisted that the five TV interviews Romney did on Friday only happened because the Obama campaign suggested that he might be a felon: "He left a life he loved to go to Salt Lake City to save the Olympics for the country he loves more, and somehow Chicago, in classic Chicago-style politics, the Obama campaign is trying to make this something sinister."
Meanwhile, the Boston Globe, which was responsible for starting this conversation last week, doubled down on its assertion that Romney had significant ties to Bain post-February 1999. In a new report, the paper cited Romney's testimony at a 2002 hearing establishing that he was Massachusetts resident so he could run for governor. Back then, he said that he often left his post in Salt Lake city for "a number of social trips and business trips" in Massachusetts, as well as "board meetings."