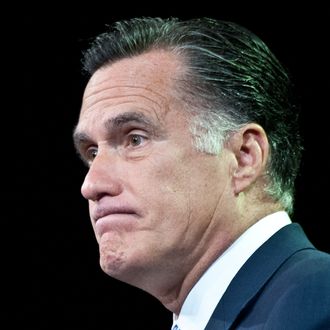 If you look closely, you can actually see him thinking about his Anglo-Saxon heritage.
Photo: NICHOLAS KAMM/AFP/Getty
Mitt Romney's advisers kicked off a week of parading their candidate overseas by telling Britain's Telegraph newspaper: "We are part of an Anglo-Saxon heritage, and [Romney] feels that the special relationship is special. The White House didn't fully appreciate the shared history we have." Romney arrives in London on Wednesday as part of a tour of Britain, Poland, and Israel.

The advisers, who "spoke on the condition of anonymity because Mr Romney's campaign requested that they not criticise the President to foreign media," were unable to provide the Telegraph with "detailed examples of how policy towards Britain would differ under Romney," other than restoring the bust of Winston Churchill to the Oval Office.
One of the advisers, when asked how a Romney White House would address the European debt crisis, said: "I'm not sure what our policy response is."