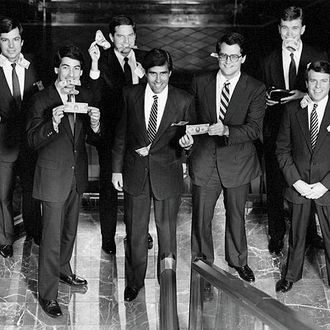 Romney enjoying some of that sweet fetus money.
That Bain Capital investment in Stericycle, a medical-waste company that helps to dispose of aborted fetuses? When Huffington Post reported on it earlier this year, Bain officials insisted that Mitt Romney, the currently pro-life Republican presidential candidate, had already left Bain when it happened, in 1999. But a trove of financial filings uncovered by Mother Jones appears to show the very opposite:
The SEC filing lists assorted Bain-related entities that were part of the deal, including Bain Capital (BCI), Bain Capital Partners VI (BCP VI), Sankaty High Yield Asset Investors (a Bermuda-based Bain affiliate), and Brookside Capital Investors (a Bain offshoot). And it notes that Romney was the "sole shareholder, Chairman, Chief Executive Officer and President of BCI, BCP VI Inc., Brookside Inc. and Sankaty Ltd."

The document also states that Romney "may be deemed to share voting and dispositive power with respect to" 2,116,588 shares of common stock in Stericycle "in his capacity as sole shareholder" of the Bain entities that invested in the company …

Another SEC document filed November 30, 1999, by Stericycle also names Romney as an individual who holds "voting and dispositive power" with respect to the stock owned by Bain.
For someone who wasn't involved at all in the Stericycle investment, Romney's name sure shows up on a lot of Stericycle-related documents! Because back in 1999, there would have been no reason for Romney to not invest in the fetus-disposal industry. After all, abortion is legal, aborted fetuses exist, and whatever Stericycle does with them — turns them into bicycles, we're guessing? —  is probably better than tossing them in a dump somewhere. Plus, Romney was a pro-choice, soon-to-be governor of Massachusetts, where the state motto is literally "Abortions: Ain't Nothin' Wrong With That!" He was probably focused more on the millions upon millions of dollars the investment would net him, and not how awkward it would make life for New Mitt. But Old Mitt had a way of being selfish like that.