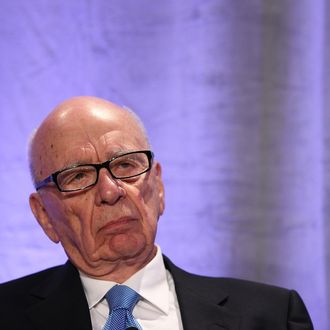 Who wouldn't get along with this lovable scamp?
Photo: Justin Sullivan/2011 Getty Images
What started as a slew of 140 character missives, in which Rupert Murdoch critiqued Mitt Romney's campaign, has gradually led to the revelation of a serious rift between the two men. The New York Times reports that they had a series of awkward dates, but ultimately Romney failed to charm the News Corp. owner. Now Murdoch is left pining for Governor Chris Christie, and Romney is heading into the campaign with a conservative media mogul who has no qualms about bashing his campaign in the editorial pages of The Wall Street Journal.
Romney visited the Journal's editorial board twice, and a staff member tells the Times that, on both occasions, Murdoch showed, "zero enthusiasm, no engagement." During their 2007 meeting, Romney managed to alienate both Murdoch and the Journal's editorial page editor, Paul Gigot, by presenting himself as a businessman with a passion for crunching data. He also lost points for suggesting that he'd probably bring in the management consulting firm McKinsey to help set up his cabinet.

Romney knew he blew it, so he went about things differently during his December 2011 meeting with the editorial board. He announced at one point, "America doesn't need a manager. America needs a leader," and made the self-deprecating quip, "I hope I'm getting better at this." Romney was sure he'd left a better impression, so he was crestfallen when the Journal continued attacking him in its editorial pages. (Apparently his more recent meetings with Murdoch haven't gone any better.)

The paper suggests that Romney and Murdoch never clicked because "a teetotaling Mormon from the Midwest and a thrice-married Australian who publishes photos of topless women in one of his British newspapers are bound to have very different world views." That may be true, but the discrepancy didn't prevent Murdoch from gushing about Rick Santorum on Twitter, and presumably, neither candidate is a huge fan of Murdoch's "Page Three" girls.

Obviously, it isn't great for a Republican candidate to be on the outs with the man who owns the Journal, the New York Post, and Fox News — outlets which, as the Times notes, "could have the collective power to shape the thinking of millions of voters." Yet reassuringly, there isn't that much evidence that Murdoch's opinion is influencing the campaign. (Particularly compared to his pre-hacking-scandal political sway in Britain, where he once entered 10 Downing Street through the back door for a private meeting with Prime Minister David Cameron.) The Journal occasionally publishes a critical editorial, and the Times reports that Fox News "has been far more aggressive toward Mr. Obama than it has been kind to Mr. Romney" — but ultimately that's still good for Romney. Murdoch's feelings toward Romney maybe be indicative of Republicans' general lack of enthusiasm for their candidate, but so far the only clear consequence of their icy personal relationship is a series of less than flattering tweets.