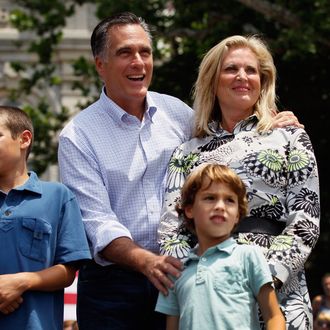 Young Romneys waste valuable TV time while hanging out with grandpa.
Photo: Joe Raedle/2012 Getty Images
In recent years, presidential vacations have become strangely controversial. In fact, just last year, one Mitt Romney criticized President Obama for spending Christmas golfing in his native Hawaii. Now candidate Romney is getting a taste of what it's like to have your holiday plans publicly critiqued. This weekend, Romney kicked off his annual family vacation at his lakefront home in New Hampshire, prompting the Washington Post to run a Sunday cover story titled "Mitt Romney's summer vacation full of competitive sports and family meetings." Apparently the Romney retreat is "mandatory" for his five sons, their wives, and his eighteen grandchildren, and the week is filled with chats about family members' life plans and something called "Romney Olympics," a cutthroat marathon in which the entire family competes "in sport." Yes, Romney actually forces his family to get together and do fun bonding activities once a year — that monster!
Most Twitter responses to have focused on the compulsory nature of Romney-style recreation, their use of a chore wheel, and the Romney Olympics lineup, which includes competitive biking, swimming, and running (plus more unconventional games: "who can hang onto a pole the longest, who can throw a football the farthest and who can hammer the most nails into a board in two minutes"). Apparently a vacation with forced physical activity, no TV, and no booze sounds "truly dreadful & exhausting" to many Americans.
Yet, elsewhere in the article, there are signs that the week isn't all about Mitt pushing himself to cross the finish line before a daughter-in-law who just gave birth (yes, really). Aside from grueling activities that sound like they belong in Wedding Crashers, Romney kids are treated to trips into town for ice cream, roasting s'mores over a campfire, and riding a lawn tractor with grandpa. Tagg Romney says, "It's the week that most of us look forward to more than any other week of the year." Sure, it sounds like the family actually wants to attend the mandatory getaway, but for all we know the first and second rule of the Romney family vacation is, "You do not talk about how much you hate the Romney family vacation."