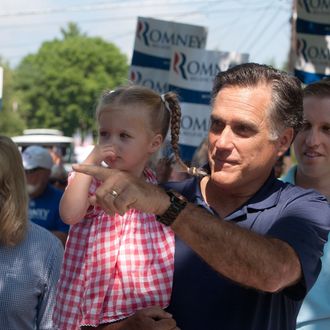 Look, sweetie, it's a way out of this argument!
Photo: Kayana Szymczak/2012 Getty Images
For Republicans, the silver lining in the Supreme Court's declaring the Affordable Care Act constitutional is that they can now attack President Obama for raising taxes. Unfortunately, while all of Romney's friends were out complaining about Obama's tax hike on any cable news show that would have them, the candidate was forced to lay low and hope that many people wouldn't notice he was agreeing with Obama on this one: Despite what the justices say, Obamacare is a penalty. To say otherwise would be hypocritical, since in Massachusetts Romneycare uses the same method to enforce its mandate. However, today, a gleeful Romney shared some exciting news with CBS. After pouring over the Supreme Court decision for nearly a week, he's finally figured out why Obamacare is a tax, but Romneycare is a still penalty.
On Wednesday, the candidate called a recess in the annual Romney Olympics to sit down with Jan Crawford at his New Hampshire vacation home. While last week top Romney adviser Eric Fehrnstrom said that the campaign was solidly Team Penalty, and subsequent statements from the campaign did not refer to Obamacare as a tax, he Etch-a-Sketched away his previous stance, declaring that he has to go with the Supreme Court's assessment, even though he disagrees with the majority's reasoning:
Well the Supreme Court has the final word, and their final word is that Obamacare is a tax. So it's a tax. They decided it was constitutional. So it is a tax and its constitutional. That's the final word. That's what it is.
One might think that makes Romneycare a tax, too, but in his decision Chief Justice John Roberts helpfully included a reminder that, unlike the federal government, states don't need a constitutional justification for issuing a mandate. As Roberts put it during oral arguments in March, "the States are not limited to enumerated powers." Romney explains:
Actually the Chief Justice in his opinion made it very clear that at the state level, states have the power to put in place mandates. They don't need to require them to be called taxes in order for them to be constitutional and as a result Massachusetts's mandate was a penalty, was described that way by the legislature, and by me, and so it stays as it was.
Thus, Romney wins this semantic argument and is free to join his Republican brethren in attacking Obama for creating a policy virtually identical to his own (if it weren't for federalism). He used the interview to make up for some lost time, saying: 
The American people know that President Obama has broken the pledge he made. He said he wouldn't raise taxes on middle income Americans. Not only did he raise the $500 billion that was already in the bill it's now clear that his mandate as described by the Supreme Court is a tax.
The Obama campaign immediately retaliated, saying, "First, he threw his top aide Eric Fehrnstrom under the bus by changing his campaign's position … Second, he contradicted himself by saying his own Massachusetts mandate wasn't a tax."
Romney picked an odd time to reveal that he's found a way out of the awkward situation Roberts created for both himself and the president. First of all, the strategy has been floating around the Internet since the day the Supreme Court revealed its ruling. Plus, Romney is trying to avoid the accusation that he's flip-flopped on the issue. Yet, as the New York Times notes, he decided to do the interview on the Fourth of July. The timing ensured that rather than focusing on the Romney clan's appearance at a local Independence Day parade, complete with adorable grandkids in patriotic ensembles, Romney's switch is dominating the news cycle.