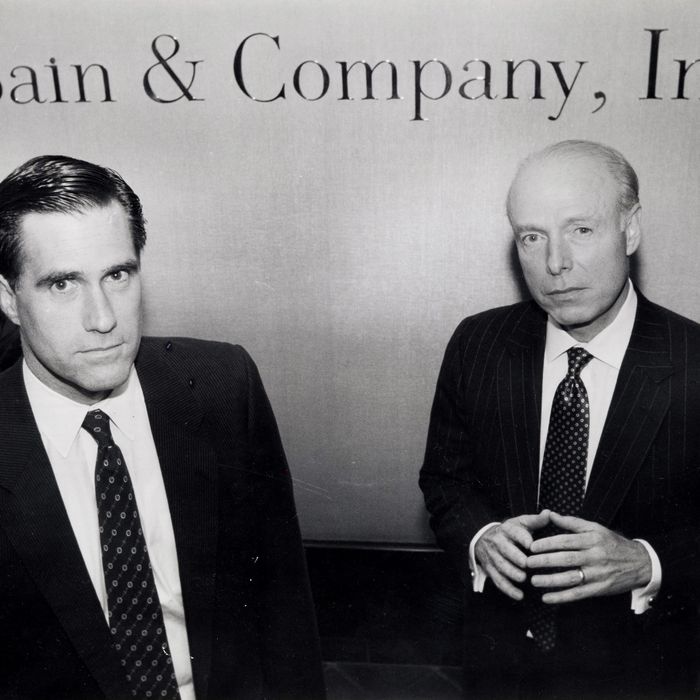 I try to get out… they pull me back in.
Photo: Justine Schiavo/The Boston Globe via Getty Images
After weeks and weeks of being pummeled by the Obama campaign for his business record, Mitt Romney is finally releasing response ads today. The response is that Obama is lying. ("How can we trust him to lead?" etc.) The ad cites articles by media "fact-checkers": Washington Post reporter Glenn Kessler and factcheck.org.
In an incredibly inconvenient piece of timing, the Boston Globe today also reports that Romney has been lying about when he left Bain Capital. This is utterly crucial. Both the fact-checking columns base their conclusions on Romney's claim that he left Bain in 1999. Obama's ads are misleading, both say, because they hold Romney accountable for things Bain did after 1999. The revelation that Romney was actively managing Bain renders both those judgments moot.
Here is the core of the Globe's finding:
Romney has said he left Bain in 1999 to lead the winter Olympics in Salt Lake City, ending his role in the company. But public Securities and Exchange Commission documents filed later by Bain Capital state he remained the firm's "sole stockholder, chairman of the board, chief executive officer, and president."

Also, a Massachusetts financial disclosure form Romney filed in 2003 states that he still owned 100 percent of Bain Capital in 2002. And Romney's state financial disclosure forms indicate he earned at least $100,000 as a Bain "executive" in 2001 and 2002, separate from investment earnings.
Here's Kessler's argument, cited in Romney's ad, as to why Obama's ad is wrong:
The Obama campaign rests its case on three examples of Bain-controlled companies sending jobs overseas. But only one of the examples — involving Holson Burns Group — took place when Romney was actively managing Bain Capital.

Regarding the other claims, concerning Canadian electronics maker SMTC Manufacturing and customer service firm Modus Media, the Obama campaign tries to take advantage of a gray area in which Romney had stepped down from Bain — to manage the Salt Lake City Olympics — but had not sold his shares in the firm.
And here is factcheck.org's analysis:
after reviewing numerous corporate filings with the Securities and Exchange Commission, contemporary news accounts, company histories and press releases, and the evidence offered by both the Obama and Romney campaigns, we found no evidence to support the claim that Romney — while he was still running Bain Capital — shipped American jobs overseas.

One

TV

ad, called "Come and Go," claims that Romney "shipped jobs to China and Mexico." But two examples cited by the Obama campaign occurred after Romney left Bain. There's no clear evidence that a third company shipped jobs to China under

 

Romney.
A second ad called "Revealed" mocks Romney's tough talk about cracking down on China's trade practices by saying "all he's ever done is send them our jobs" and citing the Washington Post article. But the newspaper article contained no examples of

U.S.

jobs being shipped to China while Romney was working at

 

Bain.
Again, note that it's all premised on Romney having no responsibility for what happened at Bain after 1999. Obama's ads contested that premise, arguing that he deserves responsibility for the outcomes he helped set in motion after he left the firm, a judgment the "fact-checkers" did not share. But that dispute appears to be totally moot.
David Corn has previously undercut Romney's statements about when he left Bain, though not quite as thoroughly as the Globe did today. The Obama campaign had challenged the premise that Romney fully left Bain in 1999, but factcheck.org said that was cra-a-azy:
"The Obama complaint claims we erred in saying Mitt Romney gave up active management of Bain Capital in early 1999 to run the 2002 Winter Olympics, insisting we were then wrong in saying Romney was not responsible for shipping U.S. jobs overseas," FactCheck's Brooks Jackson and Robert Farley wrote in a response to the Obama campaign, which had complained about an earlier article by the authors.

"In fact, if the Obama campaign were correct, Romney would be guilty of a federal felony by certifying on federal financial disclosure forms that he left active management of Bain Capital in February 1999."
So now factcheck.org seems locked in to claiming that Mitt Romney is a felon. That could really make for some fun ads this year.