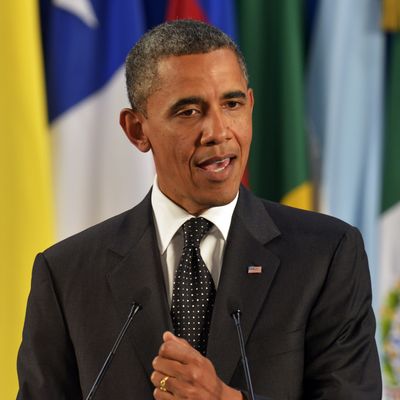 Less Money, Mo Problems.
Photo: Cris Bouroncle/AFP/Getty Images
New campaign fund-raising figures reveal that Mitt Romney's campaign and the Republican National Committee pulled in an impressive $106.1 million in June, topping the Obama campaign's and the Democratic National Committee's mark of $71 million over the same period. The Democrats' haul is their best monthly figure this election cycle and 18 percent higher than May's draw according to The Wall Street Journal, while Romney's total is the best of the 2012 presidential campaign so far. While the respective fund-raising machines aren't exactly David and Goliath, an Obama campaign official has sounded the alarm.
Reuters reports that, based on federal disclosures Monday, Romney and the RNC have raised (at least) $389 million to date, a few shades under the $512 million Obama and the DNC have pulled in. But with the Obama campaign rapidly spending money to open offices in battleground states and on TV ads to counter negative ads funded by super-PACs, the cash advantage may have tipped to Romney. All of this doesn't consider the massive super-PAC contributions made by the wealthy and obscenely wealthy Romney supporters to groups including American Crossroads and Restore Our Future.

"This is no joke," Obama campaign's chief operating officer Ann Marie Habershaw wrote in an e-mail to supporters. "If we can't keep the money race close, it becomes that much harder to win in November."
The numbers indicate that Romney's campaign is building its house with much bigger bricks than Obama's. Reuters reports that nearly 80 percent of Romney's June contributions came from just 6 percent of the donations it received, much of them apparently maximum general election contributions in the amount of $2,500. And of the June haul, roughly $22.3 million, or about 20 percent, came in donations of $250 or less. Meanwhile for Obama, more than 98 percent of donations to the campaign in June were less than $250, with an average donation of $52.54. 
The Times reports that several top Obama donors said privately that Obama's attacks on Romney's private equity career and his criticisms of tax rates for the wealthy have made life difficult for those trying to get rich businesspeople to open their checkbooks for the president. And Obama has ruffled at least a few feathers with those attacks, too. "I just got back from Rhode Island on my boat," said Obama fund-raiser R. Donahue Peebles, referencing criticism of Romney's boating vacation last week in New Hampshire. "I can hold 12 people on my boat. I don't feel that I'm out of touch with Americans or that I am a bad person. I find it offensive, and I'm a supporter."
With the Democratic boat-owning bloc apparently miffed, it looks like Obama's campaign is going to have to continue squeezing supporters who wallow in diaper-infested pools.