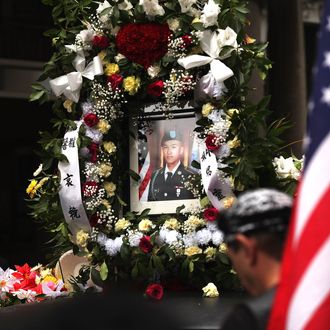 Photo: Spencer Platt/Getty Images
The first of eight people to be tried by a military court in the suicide of Chinese-American soldier Danny Chen was acquitted today of negligent homicide, reckless endangerment, communicating a threat, and hazing, the New York Times reports. Sergeant Adam Holcomb was found guilty of two lesser counts, including maltreatment and assault. Chen, a 19-year-old from the Lower East Side, was fulfilling a longtime dream by serving in Afghanistan, but died in October of a self-inflicted gunshot wound to the head while on guard duty after months of torment by his company.
In letters home, Chen chronicled the relentless, and often racist, bullying he faced from other soldiers, hazing that prosecutors argued drove him to commit suicide. "People crack jokes about Chinese people all the time," Chen wrote. "I'm running out of jokes to come back at them." (Jennifer Gonnerman reported on the tragic story for New York in January.)
On the night he died, Chen was made to crawl to a guard tower while being hit with rocks by his superiors because he forgot his water and was not wearing a helmet. In the days prior, according to testimony, he told a fellow soldier that he was thinking about killing himself because of the harsh treatment.
But defense lawyers argued that Chen's problems predated Sergeant Holcomb, concluding in the closing statement, "Private Chen killed Private Chen."