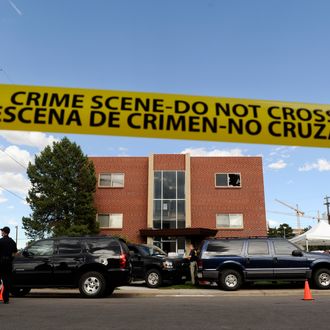 Photo: Chris Schneider/2012 Getty Images
Gun control is not something we've heard much about recently, and it doesn't seem that James Holmes's Friday night shooting rampage in a Colorado movie theater is likely to change that. In responding to the tragedy, both President Obama (who visited the area today) and Mitt Romney have kept quiet on the topic. The majority of the political Establishment has done the same, with a few exceptions. 
In an interview that aired on CBS's Face the Nation this morning, Mayor Michael Bloomberg, who frequently pushes for restricted gun use, demanded that Obama and Romney — both of whom supported bans on assault weapons in the past — clarify their stances on gun use. "Where are they now and why don't they stand up?" he asked. "The governor has apparently changed his views and the president has spent the last three years trying to avoid the issue — or if he's facing it I don't know anybody that's seen him face it." 
The other lawmakers who addressed gun control over the course of the day mostly focused on legislators' growing tendency to avoid it altogether — especially those on the liberal side. Representative Carolyn McCarthy, whose husband was killed during a mass shooting in 1993, expressed frustration over the situation: 
"I talk to a lot of members [on gun-control bills] and [they say] 'Carolyn, if it comes up on the floor, I'll vote for you,'" the New York Democrat said in an interview. "But are they going to put [their] name on the bill? No."

"This is where members of Congress need to start to get a spine," McCarthy added.
The aforementioned spinelessness has been blamed on the influence of the National Rifle Association, which is a top-spender among political interest groups. As Senator Dianne Feinstein, a leader on 1994's federal assault weapons ban (which quietly expired in 2004), put it on Fox News Sunday, "The gun organizations go out to defeat people in states where they can, and they pour a lot of money in and some people lost office after they voted for the legislation before." And Jim Manley, a congressional aide with over twenty years of experience working in the House, told CNN that Democrats had responded to getting "walloped" on gun control by encouraging pro-gun members of the party to run. Indeed, a recent poll showed that 68 percent of Americans had a "favorable" view of the NRA. Another said that 73 percent would not support rules preventing anyone who was not a member of law enforcement from owning a handgun.
Despite all that, Democratic senator Frank Lautenberg, another longtime pro-gun-control advocate, released a statement promising to reintroduce the bill he crafted after Gabby Giffords was shot in Arizona last year: "We have to face the reality that these types of tragedies will continue to occur unless we do something about our nation's lax gun laws." However, as observers have noted, that piece of legislation, which would limit access to high-capacity gun magazines like those used in Tucson and Aurora, was largely ignored the first time around.