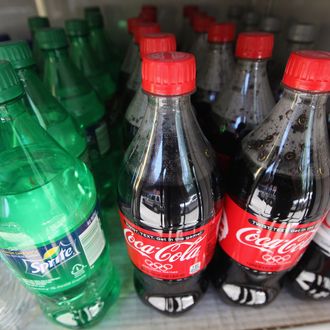 Freedom now comes in a variety of delicious flavors.
Photo: Mario Tama/2012 Getty Images
Soda manufacturers, including Coca-Cola, are stepping in to save New Yorkers from Mayor Bloomberg's dastardly attempt to make us stop drinking beverages from containers bigger than our heads. For years, the city has run ads promoting healthier food choices with limited success, and now the newly formed, soda-company-backed group New Yorkers for Beverage Choices has launched a counterattack. In a new radio commercial, New Yorkers declare that no one can tell us to root for the same sports team, so "Are we going to let our mayor tell us what size beverage to buy?"
This may be hard to believe since the accents are so authentic, but those are just actors. You can expect to see plenty of other commercials like this one before the city's Board of Health holds a public hearing on the ban on July 24. Washington, D.C.'s American Beverage Association has hired the strategists behind the famous "Harry and Louise" ads from the 1992 election, who apparently have nothing better to do in 2012 than create ads fighting the soda ban.
In addition to the ads, the industry group is starting petitions, launching social media campaigns, and meeting with local leaders in an effort to rile up New Yorkers about the new restrictions. The group is facing one major hurdle:  The decision will be made by members of the Board of Health, who were appointed by Bloomberg, not elected. Hopefully they won't figure this out until after they release an ad featuring a guy with a heavy Brooklyn accent declaring, "They may take our lives, but they'll never take our 32-ounce Dr. Pepper!"