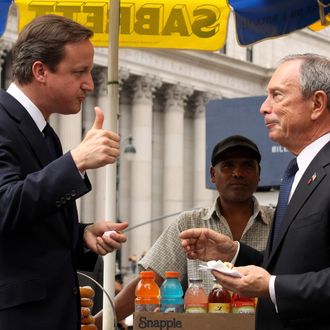 British Prime Minister David Cameron compliments Mayor Bloomberg on the trans fat-free lunch.
Photo: Oli Scarff/2010 Getty Images
Long before Mayor Bloomberg decided to save New Yorkers from the scourge of gigantic sodas, he successfully pushed the New York City Board of Health to ban the delicious yet unhealthy trans fats found in our food. At the time, Bloomberg faced "nanny state" accusations and health advocates worried that the ban would just lead restaurants to swap trans fats for artery-clogging saturated fats. However, a new study funded and conducted in part by city health officials finds the naysayers owe them an apology — and a thank-you for surreptitiously improving their health.
CNN reports that since 2007, when the city banned restaurants from serving food that contains 0.5 grams or more of trans fats per serving, researchers have been collecting New Yorker's lunch receipts and calculating the meals' nutritional value to study the effect. An analysis of 6,969 receipts collected from chains like McDonald's, Burger King, Subway, KFC, and Pizza Hut in 2007 found that the average fast-food meal contained 2.9 grams of trans fat. A sample of 7,885 receipts from 2009 found that after the ban was put in place that number dropped to 0.5 grams, an amount deemed negligible by the FDA.
Christina Curtis, director of the city's Nutrition Strategy Program and co-author of the study, which was published in the Annals of Internal Medicine, pointed out that despite the initial uproar, this was a painless way to cut New Yorkers' risk of heart disease. "For consumers, the transition was seamless. Most New Yorkers didn't even notice," said Curtis. "And now we know that it has really made a difference."
Alice Lichtenstein, a nutrition specialist at Tufts University, wrote in commentary on the research that while it's just a "drop in the bucket" when it comes to the obesity epidemic, it does show the benefits of making healthier options the default choice. "The regulation may serve as a model for future successful public health initiatives," she writes. Lichtenstein is right; the research presents an interesting argument in favor of regulations that steer people toward making healthier choices (though it fails to address issues surrounding the personal freedom to eat deliciously unhealthy food). It's certainly a lucky coincidence that the city managed to get this study out just one week before the July 24 hearing on the proposed ban on large sodas!
This post has been edited since it was initially published.