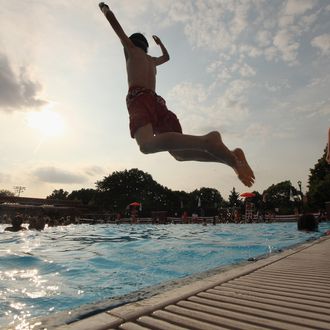 A rare scene of law-abiding fun at McCarren Park.
Photo: Mario Tama/2012 Getty Images
Knowing that the last thing the McCarren Park Pool needs is more trouble, a gang of teen hooligans thoughtfully committed their horrific acts of violence elsewhere in the park. While the second day of what's been dubbed "poopgate" has drawn considerable attention, another story is flying below the radar: On Friday night a 16-year-old boy was surrounded by other teens, then attacked with bats, broken bottles, and a knife. It's likely he only survived thanks to a few good Samaritans.
The blog A Walk in the Park reports that the boy was chased from the soccer fields near the pool to a baseball field across the street. A couple sitting on a bench in the park thought the teens were celebrating, but quickly realized they were viciously attacking one boy they'd knocked to the ground. The witness, who asked to remain anonymous, told the blog:
From where I was it looked like they were stabbing him in the lower back … They were swinging baseball bats, punching him and throwing things. They hit him with a bottle. It was the whole group, everybody was getting their punches in. They seemed hell bent on killing this kid.
The man called 911 and then screamed at the boys that they should run because the police were on their way. That stopped the attack at first, but twice teens approached the severely injured boy and pretended to help him up, only to start punching him again until they were chased off by bystanders.
Police arrested three people and charged them with attempted murder, gang assault, and a variety of other crimes. The victim was taken to Bellevue Hospital. Police say he'd been hit in the head with a brick, punched, kicked, and stabbed several times with a knife. Suddenly the scuffles over backflipping and locker room robberies don't seem that bad.