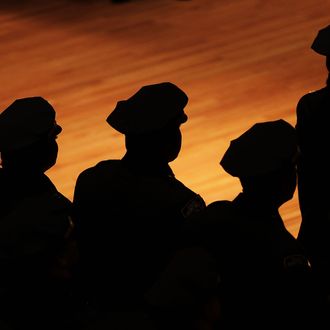 Photo: Spencer Platt/Getty Images2012 Getty Images
A superintendent making inspection rounds in a New Jersey apartment building saw something, so he said something. Thinking he may have stumbled upon a terrorist lair, the man called 911 to report the "suspicious" setup: The apartment "has no furniture except two beds, has no clothing, has New York City Police Department radios," he told a 911 dispatcher. "Really?" she responded, startled. "There's computer hardware, software, you know, just laying around," he continued. "There's pictures of terrorists. There's pictures of our neighboring building that they have." No, silly, don't worry! That's just an NYPD spying safe house.
The Associated Press team of Matt Apuzzo and Adam Goldman, who have exposed the NYPD programs used to track Muslims in New York and beyond, published the bizarre 911 call today after suing the city for its release. It turns out the apartment had been rented by an NYPD officer under a fake name, but neither the local police of New Brunswick nor the FBI, both of which investigated the building soon after the call, had any idea about the operation. (The head of the FBI in Newark has already gone on record to complain about the NYPD's big-footing.)
As the AP reports, the building manager did the right thing, according to NYPD tips: "In its 'Eight Signs of Terrorism,' people are encouraged to call the police if they see evidence of surveillance, information gathering, suspicious activities or anything that looks out of place." Check, check, check. But the episode was humiliating for the NYPD, which had to approach the FBI, shoulders slumped and head down, to ask for their stuff back.
Who was supposed to be watching the hideout anyway? For a top-secret police program, they sure were outed easily, not by the enemy, but by a confused citizen just doing his job. Some spies.