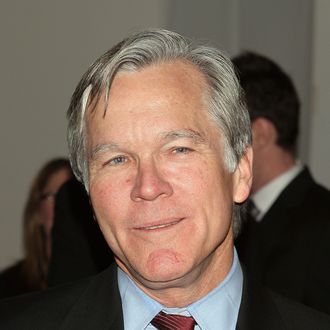 Bill Keller. (Scott Gries/Getty Images)
Photo: Scott Gries/2008 Getty Images
Those people who woke up today and checked Twitter before (or rather than) opening up their New York Times were treated to what appeared to be a  rather impassioned defense of WikiLeaks by former Times executive editor Bill Keller. While the piece acknowledges his "turbulent relationship with WikiLeaks and its Guru-In-Chief Julian Assange," it goes on to say that:
>
You don't have to embrace Assange as a kindred spirit to believe that what he did in publishing those cables falls under the protection of the First Amendment. […] I've said repeatedly, in print and in a variety of public forums, that I would regard an attempt to criminalize WikiLeaks' publication of these documents as an attack on all of us, and I believe the mainstream media should come to his defense.
Turns out these two sentences actually were written by Keller, but not in the Times — they were sent in an e-mail to GigaOM's Matthew Ingram about four days ago. Everything else about the op-ed, however, is a hoax. As is the incredibly convincing webpage, which is not at the regular Times domain but rather at the slightly tweaked www.opinion-nytimes.com, which was registered back on March 30. The Bill Keller Twitter account that first tweeted the story is also fake — perceptive Flickrer qthrul noticed it lacked the little blue "verified" symbol, and that "Bill" was spelled not with two lower-case l's but with an upper-case i and a lower-case l.
Keller has since come out (in all caps, on Twitter) to denounce the op-ed, and later sent an e-mail to AllThingsD's Peter Kafka.
Ah, the social media hall of mirrors. Yes, the "WL Post-Postscript" Op-Ed is a fake. (Though it steals a few lines from my exchange a few days ago with Matthew Ingram, which was real.) My tweet calling the fake tweet a fake was real. This tweet assuring you that the tweet about the fake tweet is not fake is also real. All clear now, right? Good. It's been real.