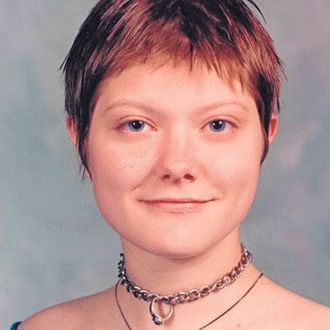 Family photo of Sarah Fox.
Another cold case took a bizarre turn on Tuesday evening when police revealed that the 2004 murder of Julliard student Sarah Fox has been linked to an Occupy Wall Street protest that took place in March. Fox, who was 21, was last seen leaving her Inwood apartment to go jogging. A few days later, her nude body was found in Inwood Park surrounded by tulip petals. Now authorities say DNA recovered from her CD player, which turned up a few yards from her body, matches DNA found on a chain used by Occupy protesters to hold open an emergency gate at Beverly Road subway station in East Flatbush. NBC New York reported that while this is a major break in the case, authorities still haven't connected anyone to the DNA.
But questions remained on Wednesday, as someone told the New York Times that the DNA match was the result of a lab error, and came from a staffer at the Office of the Chief Medical Examiner. "The O.C.M.E. tainted the samples and it was the O.C.M.E. supervisor's whose DNA was on both," said the anonymous insider.
However, a spokesperson from the office insisted, "We've excluded all medical examiner personnel," and said the test was still being worked on.
DNA Info reported that Dimitry Sheinman, long considered the number one suspect, isn't a match. Sheinman is yet another weird layer in the sad story: Last month, he renewed public interest in the case when he turned up back in New York after spending a few years in South Africa. Claiming to be clairvoyant, Sheinman said a name came to him that could solve the case, one that he was carrying around in a sealed envelope. The construction worker and artist is also shopping a book about the murder.
No one was arrested in the Occupy subway incidents, and the finding, even if it's legitimate, doesn't necessarily mean that one of the protesters was involved in Fox's murder. (Surveillance from the scene shows people in hoods and masks propping the door open.) "In regard to this new evidence, we're confident that the prosecutor's office will investigate all new evidence fully and inform us when sufficient evidence leads to an arrest," Fox's sister told the Times. An Occupy Wall Street spokesman said, "We have no information about any alleged connection or those making such allegations."
There are many scenarios that could have led to DNA being found on both items besides a lab error, ranging from the same cop being involved in both investigations to one of Fox's friends becoming involved in the Occupy movement. "Whether it's a friend or the bad guy, we have to find out," an official said. While encouraging, the match could be nothing more than a coincidence.
This post has been updated throughout.