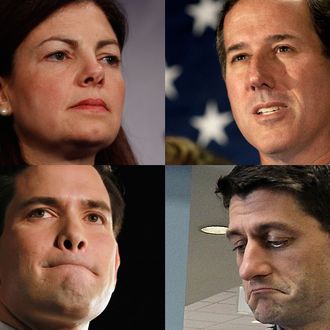 Photo: Clockwise from top left: Chip Somodevilla/Getty Images, Jeff Swensen/Getty Images, Justin Sullivan/Getty Images, Joe Raedle/Getty Images
In our latest update, Rick Santorum plummets, Chris Christie is all ears, and some of the top contenders have gone suspiciously mum.

Mitt Romney may not have a vice-president shortlist yet, but through rumor, guesswork, and sometimes even actual evidence, the political media has already assembled one for him. It contains household names like Marco Rubio and Chris Christie, and less famous politicians such as Rob Portman and Kelly Ayotte. Over the course of the next few months, these potential running mates will be bombarded with questions about the prospect of joining Mitt Romney's ticket, and they will respond by performing a rhetorical balancing act for our amusement. Sound too enthusiastic, and you alienate your constituents (assuming you have them) and set yourself up for embarrassment when you're not picked. But sound too disinterested, and why should Romney pick you at all, you jerk? Or, you may honestly not want the gig, in which case an outright Shermanesque refusal would make your intentions perfectly clear.
It is this delicate dance of thinly veiled bullshit that we intend to chronicle until a running mate is finally chosen. By ranking the major veep candidates based on the eagerness of their most recent veepstakes-related remark — on a scale of William Tecumseh Sherman to "That's the Ticket," which is a reference to something Jon Lovitz used to say on SNL a long time ago — we hope to illuminate the majesty and awkwardness that is the veepstakes.